CARSON Expert Charger DUO 2.0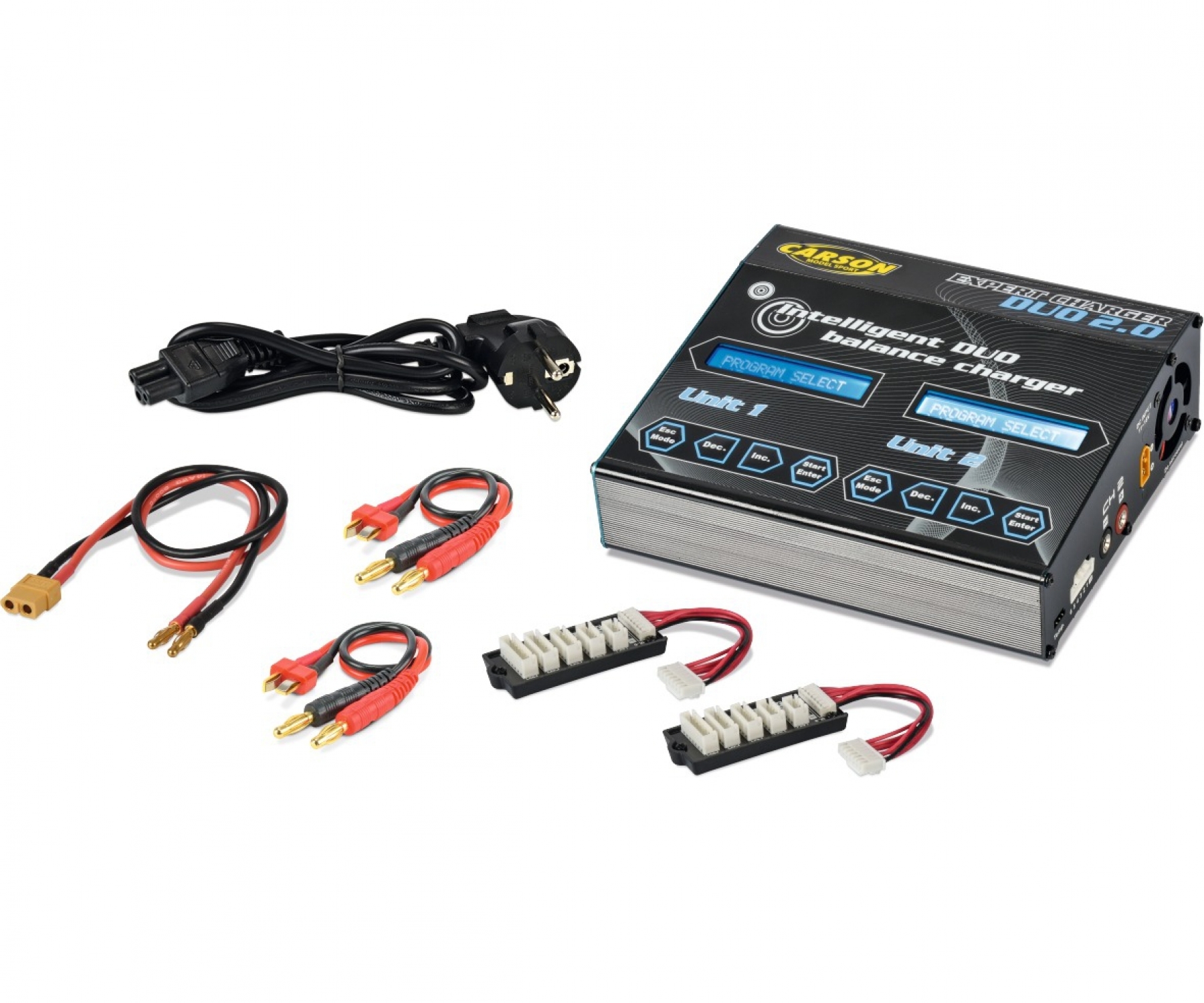 CARSON Expert Charger DUO 2.0
Product 500608190 : Expert Charger Duo 2.0
The CARSON Expert Charger DUO 2.0 is an innovative computer charger with a host of professional functions. It charges all battery
types from 2x 1 V to 22.2 V with 2x 0.1 to 6 A controllable via 2 separate charging units. The handy charger is extremely powerful and is
suitable for standard NiMH/lead batteries as well as modern lithium batteries (LiIon/LiPo/LiFe). It is also an accurate instrument for
checking the state of the battery. A key feature is the save function which can store up to ten sets of battery charge data for later recall.
The clear, blue LED display shows information about the battery voltage, charging current, charge time and charged capacity. The
balancer ensures that all of the cells in LiXX packs have the same final charging voltage. The Expert Charger DUO 2.0 is well equipped
and very user friendly and can be operated with 11-18 V DC for for out door use.
Included:
Expert Charger Duo 2 with power cord , 2x HXP balancer adapter, 2x T-Plug charging cable, direct current power cord and manual.
Technical data:
Input voltage charger: 100-240 V, 50/60 Hz (AC) / 11-18 V (DC)
Charging current: 2x 0.1 – 6 A maximum 50 W (2x)
Discharge current: 2x 0.1 – 2 A maximum 5 W (2x)
Battery types: 1-6 cells Li-xx (3.7-22.2 V), 1-15 cells NiMh/ NiCd (1,2-18 V),
Pb (2-24 V) Balancer + XHP Adapter, Delta-Peak cut off
Weight: 930 g
Size: 177x150x55 mm
Features:
– Super easy handling
– Large blue backlit LCD display
– Li-Po/ LiFe 1-6 cells
– NiMH/ NiCD 1-15 cells
– for all PB batteries 2-24 V
– Incl. 2x balancer adapter for XHP system
– connecting a temperature sensor possible
– Fast Charging max. 2×6 A
– Discharge mode up to 2.0A
– two separate progammable charging Units
– 11-18 V DC power supply for mobile use possible