COMBO BRUSHLESS 80Amp SCT WP + 4P 3660SL 3150Kv motor + program card Konect KN-COMBO-C2
€139.00 inc. VAT
1 in stock
COMBO BRUSHLESS 80Amp SCT WP + 4P 3660SL 3150Kv motor + program card Konect KN-COMBO-C2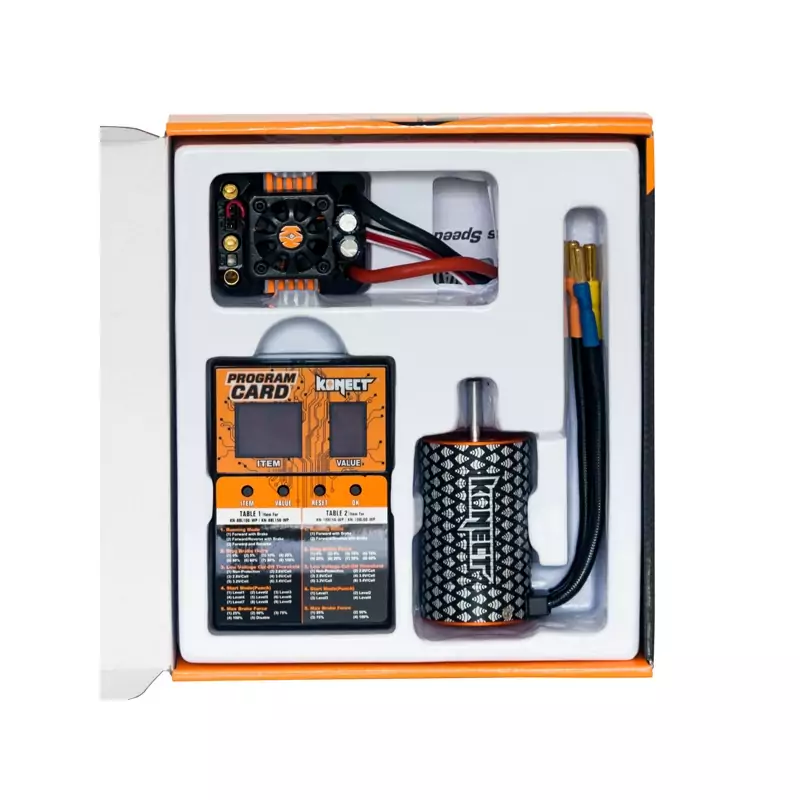 COMBO BRUSHLESS 80Amp SCT WP + 4P 3660SL 3150Kv motor + program card Konect KN-COMBO-C2
Can be used with all motors, sensored, sensorless motors
-Starting power, acceleration and linearity
-Operation (forward with brake or market front and rear with brake)
-4 levels of adjustment of brake and 8 levels of adjustment motor brake (drag brake force)
-4 start modes (punch) low to very powerful
-Several protections: cut (low voltage, overheating, loss of radio and engine block)
-Resistant to splashes and dust
-Programming using the switch or with provided programming card.
Features:
CONTROLLER waterproof 80Amp
-2 – 3s LiPo / 6-9 cell NiMH
-80Amp continuous / 520Amp in advanced
– BEC: 6V-7, 4V / 3A
-Compatible with brushless sensorless motors
-Intended for: 1/10th track and cross-country, Short Course.
-Dimensions: 49 x 39.5 x 34.7 mm
-Decision-making DEAN
ENGINE 1/10th BRUSHLESS SENSORLESS
KN-3660SL-3150
-4-pole
-3150Kv
-Sensorless motor Type 540 size 3660
Mm
-5 axis mm
-Weight 250 gr
-Cage completely in aluminium.
-Taking PK 4 mm male directly welded on wire for mounting of the controller more quickly and reliably.