Konect Combo (3500Kv) 50Amp WP + 4P 3652SL 3500Kv brushless motor + program card KN-COMBO-B1
€100.00 inc. VAT
Konect Combo (3500Kv) 50Amp WP + 4P 3652SL 3500Kv brushless motor + program card KN-COMBO-B1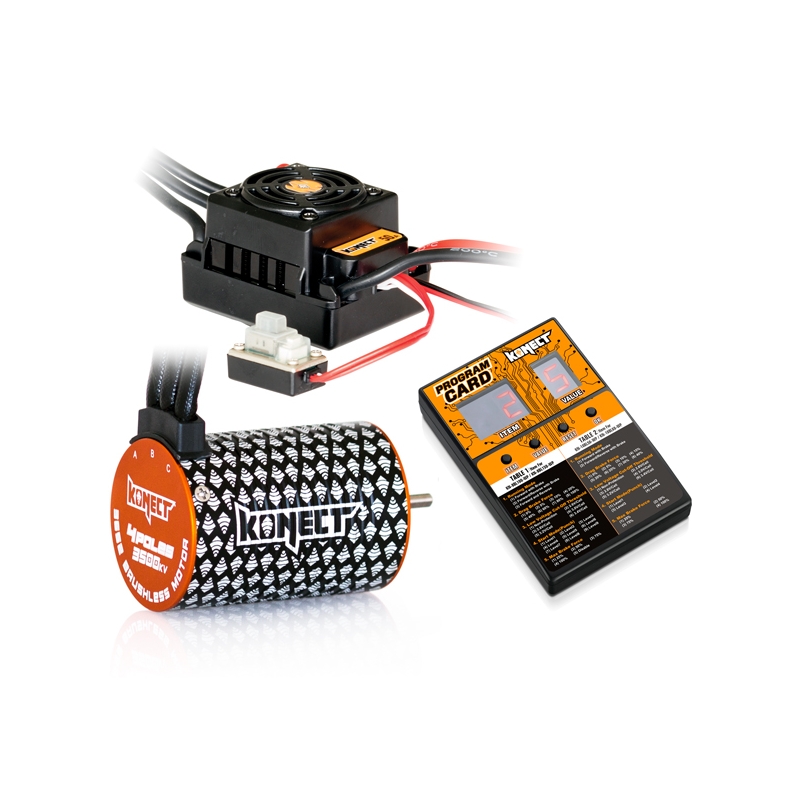 Konect Combo (3500Kv) 50Amp WP + 4P 3652SL 3500Kv brushless motor + program card KN-COMBO-B1
This combo range is mainly dedicated to leisure. The 3652 size motors will fit in all 1 / 10th chassis and the 50A controller is manufactured by Hobbywing. These combos are resistant to splashing water and mud. Ccmbo's come with motor + controller + programming card.
To upgrade a model that was equipped with a brushed motor, we will prefer the 3500 or even 4000 kv model. For a competition or brushless compatible model, you can choose the 4600 or 5400 kv model.
Features of the Konect 50A WP controller (ESC)
• Compatible with sensorless motor.
• Power 50A continuously.
• Power 300A peak.
• Resistance 0.0008 ohm
• Input voltage (Nimh) : 4 to 9 cell
• Input Voltage (Lipo) : 2 to 3S Lipo (from 7.4 to 11.1v)
• BEC 6v 3A.
• Size : 48.5mm (L) x 38mm (W) x 32mm (H) mm with fan
• Weight 90g
3652SL – 3500KV Brushless motor
KONECT Brushless motor, engine high-performance, powerful and efficient.
-Engine closed off dust
-Quality yarns
-Lightweight design
-4 pole for more performance
-Connection gold and out of tight son
-Sensorless motor Type 540 size 3652
-Axis 3.17 mm
-Length 15mm axle
-Weight 165 gr
-Diameter: 36 mm
-Length: 52 mm